Frequently Asked Questions
1. What currency are your prices in?
All prices are quoted in Canadian Dollars. Use xe.com to convert to your local currency.
2. What does "end-grain" mean?
These boards are constructed of square or rectangular shaped blocks which are arranged so the end of the wood (the growth rings) are visible on the surface. This technique produces a symmetrical pattern.
End grain is the strongest type of construction available. The "self-healing" aspect of end grain surfaces makes this construction technique ideal for chopping boards and blocks. Your blade edges will last much longer and the board will show minimal wear and tear.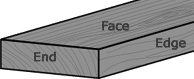 3. What does "edge-grain" mean?
These boards are constructed using strips cut from wider sections which are then placed on edge and joined together. Mostly vertical (straight) grain lines are visible along the length of the wood.
Edge grain construction makes a hard and stable surface. It is also a cost-effective alternative to end grain construction.
4. What does "face-grain" mean?
These boards are constructed using the width of the wood. The surface has a wide grain pattern that shows off the natural ovals and swirls of the wood.
This technique is the least suitable for boards that will be used for chopping or cutting, but it provides an elegant look. Such boards may be used for serving and display.
5. Do you make custom designed boards?
Yes. I am always interested in new design ideas and suggestions. Please use the contact section for my email address.
6. How are orders delivered?
All orders are shipped via Canada Post Expedited Parcel for Canadian destinations and FedEx Ground for US orders. For additional details see the Shipping section.
7. What methods of payment do you accept?
Currently I only accept payment via PayPal, but contact me for other options.
8. How can I change or cancel my order?
Use the Contact section to email me with your full name, order number, and telephone number.
9. Can I send my old board to you for resurfacing?
Not at this time, but that feature will be added shortly.
10. What types of woods do you use?
I mostly use Canadian Rock Maple, Brazilian Walnut (Ipe), Ash, Birch, Walnut, Cherry, and Purpleheart.
African Mahogany

Ash

Birch

Brazilian Walnut (Ipe)

Canadian Rock Maple

Cherry

Padauk

Purpleheart

Walnut

Wenge

Sapele

Yellowheart

11. Are the boards food safe?
Yes! All boards are constructed using food safe FDA approved Titebond II Premium glue and are waxed using my own forumla of wood wax made of all food grade ingredients.
12. How do I care for my board?
All boards have a protective coating of my own formulated food safe wood wax which is a mixture of natural bees' wax to repel water and mineral oil for penetration.
To clean the board simply rinse with a mild soap solution and dry immediately. Do not soak or place in a dishwasher. All boards come with a sample of my wax which is to be applied after drying with a soft cloth and vigorously rubbed into the wood. Let it stand for 30min before reuse.
Olive oil and certain other vegetable oils are not recommended for chopping boards as they tend to become rancid.
If you follow these simple instructions the board should last you a lifetime.
Additional detailed instructions are found in the care section.
13. How are boards shipped?
All boards are shipped using FedEx Ground across Canada and United States.